1917, A Gripping Day in the Life Tale of WWI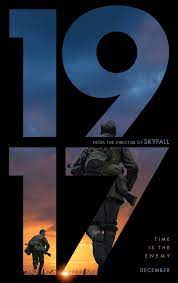 1917 is a thrilling war film that follows two friends as they trek across no man's land on the front lines of WWI. Blake and Scholfield are given orders to go across no man's land in order to deliver an essential message to the second effort. The lives of 1600 men rest in the hands of these two brave soldiers.
Through many challenges and the loss of Blake, Scholfield was able to reach the second effort just in time to save countless lives
This movie was also filmed to make it look like it was done in all one shot. This was accomplished by using single-shot coverage where the camera is always at the same height to make it look like it never stopped recording. Due to this, it has been called a technical masterpiece by some critics.
Released on: 12/25/19
I rate this movie a 10/10 and highly recommend this movie to anyone looking for a thrilling war movie. I liked how the movie made it feel as if it was done in one shot
Rotten Tomatoes: 89% 
Director: Sam Mendes
Cast: Dean-Charles Chapman, George Mackay, Daniel Mays, Colin Firth, Pip Carter