That 90's Show Has It's Moments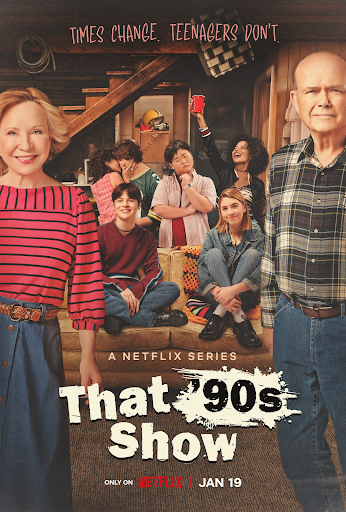 That 90's Show is a comedy with reminiscent features. It is a spinoff of That 70's Show. This show is exclusively released on Netflix. Season One is released and they have said a season two is coming but has yet to release the date on which it will come out. It is rated TV-14. The show is funny and has heartfelt moments. I recommend That 90's Show if you are looking for something to watch. 
The show has many appearances of old stars which really connects it to the original show That 70's Show. It starts off with Donna, Eric, and their child Leia showing up at the original Foremans' household. They are just visiting for 4th of July when Leia meets new friends and wants to stay with her grandparents the whole summer. The group now likes to stay in the Foreman's basement which brings a part of the old show into the new one. The group of friends has exciting but funny adventures throughout the summer.
This show was directed by Gail Mancuso and has lots of star actors and actresses including Ashton Kutcher, Mila Kunis, Topher Grace, and Kurtwood Smith. This show was given a 75 percent on rotten tomatoes. I agree as it has its moments, but is not great overall. I would give this show a 7 out of 10.