Students Have Mixed Reactions to Electronic Use Policy
"Students shall not use or possess (have on their person) a cell phone or other WCD during school hours. This includes iPods, iPads, or similar WCD that can transmit or receive text or images."
This is the policy on electronics and it is not perceived to be a very popular one. Sophomore Hunter Charvat is very passionate about the new policy and how it affects him on a day to day basis.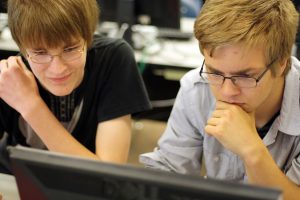 "They took iPods away from everyone rather than just the few people that were abusing them," Charvat said. "iPods help people concentrate better and even get their work done faster."
Hunter also said that half of the teachers don't even enforce the rule so it's really hard for students to know where the rule applies.
Junior Jacob Richards also is not a fan of the policy.
"The rule is too strict and they should only be taken away from students that aren't mature enough to handle them," Richards said.
Although many students don't like the policy, some understand why it is necessary.
"To an extent, the rule is a good thing because a lot of kids use iPods to take pictures and cheat," freshman Keane Meadows said.
He said that he follows the rules, so the policy doesn't really affect him.
Math teacher Craig Bowen finds that the rule helps teachers in the classroom.
"This rule helps protect teachers from getting their picture taken and put online," Bowen said. "It also stops kids from texting answers to tests and cheating."
Bowen thinks the rule will be taken away when every student has the availability to use such technology and it can then be utilized in the classroom.
Even though many students think the policy is a bad thing, there are reasons it was instituted. Students do cheat and the devices make it even easier to do so. If there was a way for students and teachers to monitor the cheating then the iPods would be good to have in class to help kids concentrate.