Go-o-ol! Soccer Season Begins
With spring sports starting up, players and coaches alike share their excitement. Soccer, commonly known worldwide as "futball", is one of them. Each player has different experiences during the seasons they play that account for their abilities and dedication to the sport.
"Soccer isn't all work and no play," freshman Desirae Dodge, goalie for the girls JV team, said. The girls start practice with two laps around the field, followed by individual and group stretches. The point of running and stretching is to build endurance for when they compete in actual games. A multitude of different stretches work all parts of the body in order to condition the body as a whole.
"We do different drills such as juggling, where you drop the ball above your foot and you kick it back and forth and try to keep it in the air," Dodge said.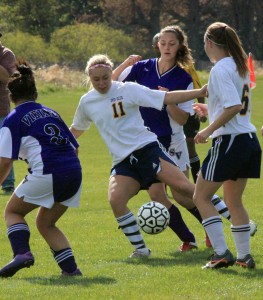 Each position has a unique name and objective; goalie (a.k.a. keeper), defense, stopper, sweeper, mid-fielder, forward. Dodge herself is mainly a Goalie, and participates in activities that push her to have pinpoint accuracy to make sure the opponents do not get the ball in the goal.
"The salmon drop is something only for goalies," Dodge said. "If the ball is over your head you run sideways while looking at the ball and when it's near the top of the goal you use the palm of your hand to hit it away. This is to train hand-eye coordination."
Although the players work vigilantly each practice for hours each weekday, they also find ways to have fun.
"When we had cupcakes we shoved them in each others faces," Dodge said.
Coach Thelen and coach Henning are proud of their JV girls for winning their first game 2-0 against Durand this past Monday. There is a lot of work that goes into games, and the players aren't the only ones who push and sweat to make sure it pays off.
"I've coached boys varsity for eight years, girls varsity for five years, and in college I was in a soccer club," Thelen said. "There was a need for a coach, and the game has given me a lot and I want to give back while providing a positive role model for my players."
The coaches themselves discuss together what they need to pass on to their players in order for them to perform at their best, first talking about what needs to be practiced then demonstrating it for them so they can grasp the basic concepts. Once they run through it a few times with the players, they assess how well each player does individually and how they work together as a team to see what is good and what needs to be worked on. Each coach has his own coaching philosophies that blend well with each others to create a great practice environment while also keeping it fun.
"My coaching philosophy is always give everything you have," Henning said.  "To work as a team, set goals for yourself and the team to work for.  Winning is not everything as long as you give it your all."
When a team is able to work together effectively, it shows and their efforts do not go unrewarded.  The players get the chance to bond with each other at group outings when they're not practicing or at games.
"We have had ice cream and popsicles at practices, cookouts, bowling on our off days," Henning said. "We try to do as many fun activities as we can to keep the players interested in the game."
The coaches also have had great experiences with their teams over the years.
"I had players show up at my wedding reception – very cool!"  Thelen said.
One of the most important things players can get from the coaches is what they teach them that not only applies to soccer but other life experiences as well.
"From me kids can learn how to respect each other, how to carry themselves on and off the field," Henning said. "How to encourage each other to do better and how to be a good sport whether they win or lose."
"I teach responsibility, and hard work is rewarded," Thelen said. "Being positive not only with yourself but others as well."
All in all, soccer is an invigorating sport for the players, coaches , and even the spectators.  From the spectators point of view, they may just see a small group of kids doing something they enjoy as a hobby, but in reality they are a team, a family, working together towards a common goal.