It's About the Effort in Track and Field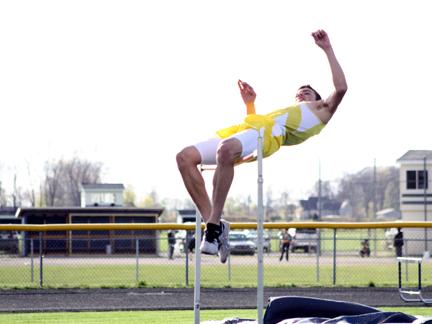 English teacher Scott Sheedlo has been coaching track and field for ten years. Through these years of coaching he has tried to teach the athletes one main life lesson.
"Everything is about effort and improvement, not about results," Sheedlo said. "Results will come after and/or if there is improvement."
Ever since Sheedlo was a senior in high school he knew he wanted to be a coach for track. He was involved in basketball and track during his high school career. Sheedlo tries his best to motivate the athletes by looking at their improvements, trying to get them to challenge themselves, and getting them to do things they haven't done before.
Sheedlo believes that there are four main priorities of an athlete: God, family, school, and then athletics. One day of practice would go as followed: a warm up, stretch, running workout, strength workout, and/or field event workout.
"Try it," Sheedlo said. "There are a bunch of events, and see if you get hooked."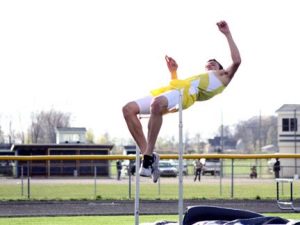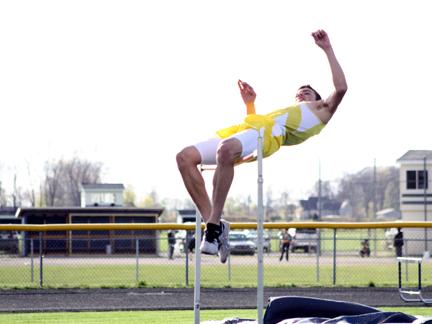 Junior Luke Hurst has been participating in track and field since seventh grade. Not only does he go to all of the practices and meets but on the off-season Hurst still prepares himself by running everyday. For Hurst the decision to join track wasn't hard at all.
"I like to run and be on a team," Hurst said.
He also likes the fact that he can do one of the things he loves to do: running and running fast.
Hurst participates in the 3200-meter run (2 miles), 1600-meter run (1 mile), 800-meter run (1/2 mile), and high jump. In 2009 at a meet in Williamston, Hurst ran a 2 mile run in 10:59. Even though this was his best day for track and field, Hurst doesn't ignore the life lessons he receives in track: perseverance and the focus that's required to perform day in and day out. Athletes on the track team do miss many days of school and have late meets.
"You gotta prepare well in advance and you will be fine," Hurst said.
Every athlete loves something different about the sport they are involved in. Senior Dustin Karlik's favorite part of track and field is talking to all his friends and eating all the food. He prepares himself outside of practice but also in his free-time plays other sports and hangs out with friends.
"Track does take away some of my free-time, not as much as other sports but it still requires time to prepare," Karlik said.
Karlik started track and field his freshman year. Two main reasons for him joining are that his dad did track when he was a kid in school and it keeps him in shape for other sports. Karlik is specifically in the 100-meter sprint and the 200-meter sprint. His best day for track and field would be the actual meets.
In Karlik's eyes there are three main priorities for an athlete: family, school and sports. He also believes that hard work and dedication are two life lessons that any person could get from track. There are also times when track takes away from his school work. He gets his homework in advance and does it ahead of time and tries not to procrastinate.
Junior Tyler Jensen loves to run in his free time, and that is why he enjoys track and field. He first started track and field his sophomore year. After Jensen was already in cross country he decided it would be a good to join track and field. The competition is what keeps Jensen interested in track.
Not only does Jensen run the 1 mile and 2 mile, he runs everyday, even on the weekends. The one meet that sticks out the most for Jensen is his indoor meet at SVSU. Racing is the best part for Jensen. But with racing comes the lessons of responsibility and hard work.
For Jensen, being in track and field does eliminate much of his free time and his time in the classroom. He handles it by making up his school work the next day. He also believes that you should try to make yourself better everyday to succeed.
Each athlete has a different goal but as a team they will try their best to achieve the main goal. That goal for the team is to try to make it to regional conferences again.