Students Hold High Expectations for Prom
Story by Jessica Carie. Video package by Haley Montague, Anna-Lena Dorst, Thomas Ogle, Katie Dobski & Cassie Robison.
Flashy decorations, scrumptious snacks, and fast paced game tables are all things to expect at this year's prom. The event will be held at the Grand Ledge Opera House in Grand Ledge on Saturday, April 21, from 7 to 11 P.M. The theme will be Vegas Casino Night, and students are expecting a fun-filled night.
Skyleigh Rathbun, a junior and first time prom goer, expects prom to be very fun with lots of slow songs.
Junior Claudia Price is a member of the prom committee.
"Prom this year is going to be fun and magical," Price said. "There will be a lot of fun dancing and everyone should come use the photo booth."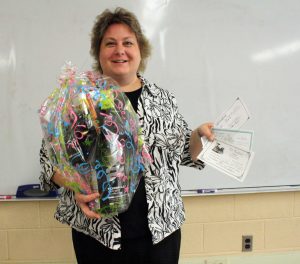 Senior Haley Edwards said, "I think this year's prom is going to be better than last year's. This is our last prom as seniors and I just want it to be a good time."
Math teacher Craig Bowen, one of the junior class advisors and coordinators of prom, had a lot to say about what would be at prom this year. He said there would be lots of prizes and that everyone has a chance to win.
"There will be a photo booth for people to take as many pictures as they want," Bowen said. "Then after prom, you can check the pictures out on Facebook and download as many as you want."
This year's prom is expected to be one of the best yet.