What Would You Do to Get a Better Education?
For junior Quincella "Q" Stokes, leaving her family, especially her grandma, for a better education wasn't that hard. She knew she wanted a better education and that meant coming here. The one hard thing for Stokes with moving from a big city like Pontiac to the little town of Ovid is the smell of animals and the fact that people live farther away from each and she couldn't just walk to someone's house.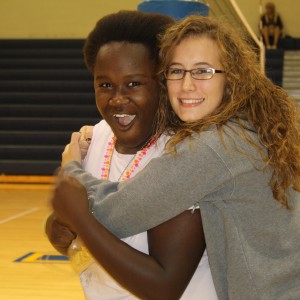 Getting used to someone else's routine is all it took for Stokes to get used to living with a family she's never lived with before. For Stokes her grandma is the one person that she misses while being with her new family. Her grandma is the one she loves going back to when it comes time for the holidays and summer break.
"When I get somewhere and be somebody, I'll have O-E to thank for pushing me to do my best and making me use my brain," Stokes said. "At my old school, Pontiac High School, I wasn't pushed and didn't have to use my brain. I take O-E really serious and am very thankful for this school."
After high school Stokes plans on going to college to study interior design. But for Stokes' last year in high school she plans on living with a different family. That way she can continue getting the best education she can at Ovid-Elsie High School.