Olympics: FFA Style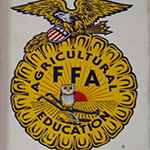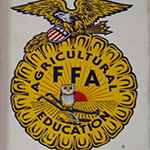 In order to get their members more involved and to keep things interesting, the FFA chapter hosts an annual FFA Olympics. Officers Cami Harris, Kayla Duckert, and Jessica Nash attended this year's Olympics in the advisor, Tracy Hoffman's room, on Wednesday, October 12th.
Each year, the FFA does their best to advertise the FFA Olympics so that their members will plan on being at the October meeting.
"All of our officers were in attendance… and I believe on the secretary's report we had 35 members and guests present," said Harris.
After the meeting is called to order and the officers and their advisor go over important business, they get into groups and compete in different games in either Hoffman's room, the hallway, or outside.
"We had pumpkin carving, [corn shucking], donut on a string challenge, we did a sack race and a three legged race, only the three legged race got canceled because it was wet outside," said Duckert.
After each game, the winning team is given points. At the very end, all the points from each individual game are added together to determine the ultimate winners.
The winners got a huge bag of candy, said Nash.
"The winning team was the Unicows, overall," said Harris.
FFA Olympics is a big hit with this FFA chapter, as well as with other chapters.
"I know that we have had FFA Olympics since I started in the seventh grade," said Nash.
Most FFA chapters in region four have an FFA Olympics or something similar, said Harris.