Reporting On A National Level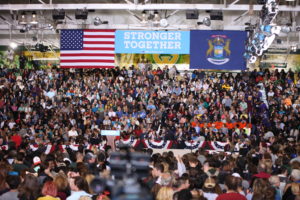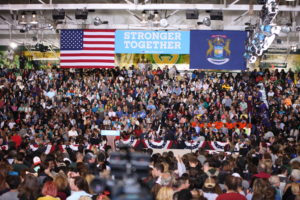 Two journalism students recently traveled to Wayne State University to do some in-depth reporting on a Hillary Clinton rally. This was a special opportunity for the students, as they were doing nearly identical reporting to national reporters also there on Monday, October 10.
The journalism instructor, Jeremy Whiting, found out about this opportunity through a fellow teacher in the state. He applied only a few days before the rally for the option to go. It was unknown until 8:58 PM the night before that the students Sarah Sopocy and Natalie DeLong, were going.
"Originally Mr. Whiting texted us in our group message, during the homecoming dance actually, to let us know that our school had the opportunity to go to this Hillary Clinton thing," senior Sarah Sopocy said. "He wanted all four of us, Natalie, me, Rebekah, and Katie, to do a news package and take some video, but then things happened so Natalie and I were the only ones that could make it."
While there, they practiced many types of reporting, trying to stay unbiased and political.
"We were recording the whole thing," senior Natalie DeLong said. "Along with trying to get as much information as we could from her to ask students around the school what they think about the election and her views."
Reporting on such a large scale event was a unique opportunity for the two girls and helped to further develop their skills as journalists.
"Honestly it was one of my favorite things that I've ever done," DeLong said. "Being surrounded by all those professionals and seeing all these professionals was a really amazing experience and I'm really glad I got to experience it with one of my best friends, Sarah."
It cost nothing to the two students, just gave them a boost in their confidence as young journalists.
"It was incredible," Sopocy said. "It totally changed my perception on what I want to be when I grow up, and it was amazing. It was so cool to be there with so many professional reporters. We saw big name reporters, NBC news, and so many cameras. It was the experience of a lifetime."
The results of their reporting have already been published in some places, and some are still in progress.
"I actually already made a news package for OETV Weekly about the campaign and the debates," DeLong said. "So if anybody is interested, they can go to oeonline.org or our Facebook and see the finished product."