Dairy Festival Tryouts Bring Together Past and Current Winners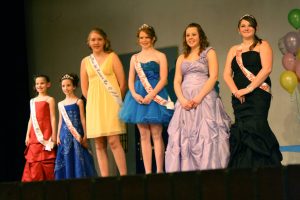 Seventh grade student Davon Cooper is now 13, but when she first tried out for the Dairy Festival she was only 6 or 7. The festival takes places in the auditorium. The winner gets to walk around during Dairy Days and showcase the community.
When she found out about the contest in the school office, Cooper immediately decided to sign up for the tryouts. Though she did not end up winning the pageant, she was not that mad or upset. She had lots of fun just being in it with her friends.
The girls that did win, Morgan, Sarah, and McKayla, will get the chance to walk around the town of Elsie and show off the pride they had for their community. One major responsibility that the girls have is to ride in the parade for the festival.