OE Students Experience Chinese Culture in Lansing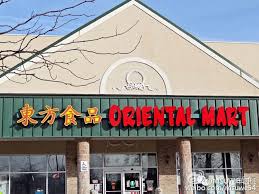 On Wednesday April 24th, Chinese teacher, Ben Dong, took his classes and former students to explore more of the Chinese culture on a day- long field trip. Students were able to eat an authentic Chinese meal, explore an Asian market and navigate to the Oriental Accent Arts shop.
The field trip began promptly after first hour when the students were split onto two buses and headed towards Lansing's Oriental Mart. Here, they gathered for a picture and were able to explore what it may be like navigating through a grocery store in China. Many bought various foods and snacks to try from all over Asia.
Next, they were off to lunch at Hibachi. Students sat down and were able to learn how to use chopsticks and indulge in various authentic dishes including Chinese dumplings, spring rolls and sushi.
Their final destination was to the Oriental Accent Arts shop located in the Meridian Mall. The store features various items such as anime merchandise, Buddha statues and sculptures as well as more chinese snacks. Students were even able to view Asian weaponry.
By hosting this field trip, students were able to be subdued to a small part of Asian culture outside of the classroom and put manners they learned in class to the test.