Barbarian Fits Mutant Mayhem Horror Genre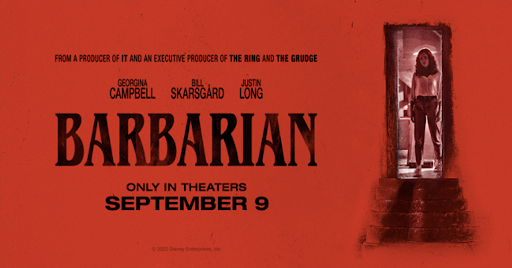 Barbarian (2022) directed by Zach Cregger is a shocking new edition to the horror genre. It is sure to confuse and scare non-horror watchers. 
The story of Barbarian is about a woman, Tess (Georgina Campbell), renting an Air BnB in Detroit for an interview. Upon arriving, she realizes a man, Kieth (Bill Skarsgård), is already staying in it. He offers her options on where to stay, eventually convincing her the safest option is to stay at the house with him instead of roaming Detroit alone at night. The audience is meant to believe that Kieth wishes to cause her harm; that is the film's horror. However- the real horror is found under the house. When Tess goes down to the basement, she discovers a secret door, which hides a secret hallway, which leads to a secret room. The room contains a camera, a bucket, and a stained mattress. Tess is horrified and tries to convince Kieth to leave with her. Kieth doesn't believe that's really what she saw and goes to see for himself. After a few moments, Tess hears Keith's scream and runs down to help him. He is nowhere to be found. Instead of Keith, she finds another secret door. Upon going through the door, she finds horrors that no one could have ever expected. 
The movie is completely one of its own, that can definitely be said. Personally, I don't think it's anything special. It isn't something I have the urge to rewatch. Once you get to the third act of the film, the ending is pretty predictable.
I always appreciate Bill Skarsgård's performance and was impressed with this misdirecting character. Justin Long's character was good at being "the one we hoped would die in the end". 
Rotten Tomatoes rates Barbarian a generous 92%. I would give this movie three stars. It was not something that amazed me. You can watch this film on HBO Max.
http://wesleyanargus.com/2022/09/29/barbarian-is-a-step-in-the-right-direction-for-big-studio-horror/