Former Policemen Kills 37 in Thailand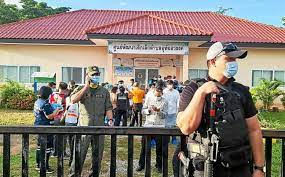 A former policeman murdered 37 people on the Oct. 6  in Na Klang, located in Thailand.
Panya Kharamrab was a 34-year-old,  former policeman. Panya was married with one son. 
In 2021 Panya was arrested for drug possession, he lost his job and his judgment was supposed to be on Oct. 7th.
The day before his sentencing, Panya was driving a white van with a rifle, a gun and a knife. He stopped at a nursery school supposedly looking for his son. With his gun and knife, he killed 23 children, between two and three years old and killed four adults who were in front of the building. After killing those innocent people in the nursery he murdered other victims on his way back home.
When he went to his house he killed his son and his wife before taking his own life. 
With the result of 37 people dead and 12 people injured, the Prime minister of Thailand, Prayuth Chan-ocha offered his condolences to the families of the victims and asked the police  to investigate. The police want to know if the man took drugs before the killing spree occurrred.
Sources :
https://www.tf1info.fr/international/fusillade-dans-une-creche-en-thailande-32-morts-l-assaillant-tue-sa-famille-et-se-suicide-2234505.html
https://www.rts.ch/info/monde/13443290-une-fusillade-dans-une-creche-fait-plus-de-30-morts-en-thailande.html