It was a strange night at the 70th Annual 2012 Golden Globes , but the show raked in more viewers than ever before. The big topics the next day were Jodie Foster talking about nonsense and being a lesbian, Amy Poehler and Tina Fey dogging on Tarantino, and for some reason Jessica Chastain winning over Naomi Watts for best actress.
Starting with things that I think are important, Quentin Tarantino won best screenplay for the acclaimed film Django Unchained, a much deserved award. Surprisingly, Ben Affleck received the best director award for the Argo, which also (out of left field), won Best Picture – Drama. The Golden Globes typically serve as a prologue to the Oscars (Academy Awards.) But, the winners of the Golden Globes aren't always necessarily greeted with the same claim at the Oscars.
The next show of the awards season is the Academy Awards will premiere on February 24 at 7 P.M. on ABC.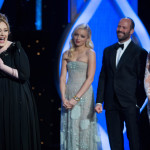 Story continues below advertisement