Is the Band Ready for States?
The band is preparing themselves in every possible way for state festival. They made it through step one, getting a one at districts. On May 4 they will see if their hard work has paid off.
Junior Makaylin Palatka joined band in sixth grade.
"The best part about band is how close you get with everyone," Palatka said. She plays the flute and bass drum.
Junior Jacob Richards plays the french horn and has also been involved in band since the sixth grade.
"There are many different things I enjoy about band but the one thing I love most is that feeling of family band provides," Richards said.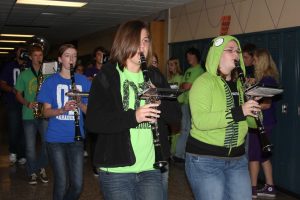 Junior Miranda Braman has been involved in band for six years. The one thing that sticks out to her the most is that the band is like one big family to her. For Braman it's playing the alto saxaphone that makes her part of this band family.
Even though last year the band didn't make it to state finals, this year they succeeded at getting a one at districts and now they are headed to states. At states it's not the typical scoring like in a sports game; this type of scoring is numbered. One is the best possible score and five is the worst. The band plans to play the songs "Gallant Marines," "Blue Ridge Saga" and "Joy."
For the band as a whole they are doing many different things to get ready for state festival.
"(We are) working really hard and focusing on all the little stuff is what is preparing us for the state festival," Palatka said.
Braman agrees.
"Lots of practice and teamwork is preparing them for the state festival," she said.
Richards, Braman, and Palatka all want to go to state festival and believe that they are ready as a group and as individuals for states. If the band gets a one at states they will be ranked at the top and will be considered one of the best in the state but this doesn't mean other schools can't also get a one.
The band participates in other competitions like the marching festival but going to states has been the highlight of the year.
"My expectations for this year's state festival is if everyone really wants it and tries, we can get a one no problem," Richards said.
Getting a one is the main goal for the band at the state festival.