Surveys Reveal an Interesting Year in Music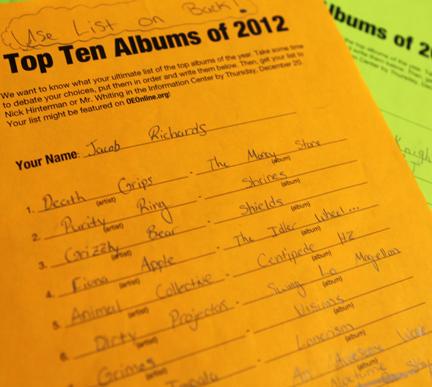 It seems like there was a good album released in 2012 in every genre of music. From older artists such as Soundgarden and Dinosaur Jr. to newer acts like Grizzly Bear and Kendrick, the albums of 2012 were not half bad.
I decided to take a survey and figure out which album was the overall favorite. I had students and teachers make a list of their top ten favorite albums of 2012. After tabulating the results, the top album of 2012 was Born To Die by Lana Del Rey.
This record has sold almost 3 million copies worldwide and was the third best selling album on iTunes in the U.K. Other records, like the Deftones' Koi No Yokan and Jack White's Blunderbuss also were towards the top of the list.
Here are a few lists that show the variety of the tastes found in the surveys.
Jacob Richards
Senior
I'm always searching for new music to explore and discover. It seems that no other year introduced to me as much good music as 2012. I thought 2011 would be hard to top with St. Vincent releasing her breathtaking "Strange Mercy" and James Blake with his haunting self-titled LP. But artists like Grizzly Bear, Purity Ring and Death Grips dominated 2012 for me, making it the best year in music for me so far this decade.
Devin Keller
Senior
I chose these great albums because each one is unique in its own way, each is original, and each has great music from my favorite genres: metalcore and post-hardcore.
Ms. Kali Root
Educational Technologist
Picking top albums of the year is just about as subjective as it gets. To me, when it comes to the best music, it's all about emotional connection.

Ellie Goulding is every girl's dream. Going through a breakup? Listen to Ellie. Not going through a breakup? Listen to Ellie.

Critic Mesfin Fekadu wrote, "Mumford & Sons continue to hark on love and life on "Babel" and it sounds masterful with its rock harmonies that are both rugged and calming." I couldn't agree more.

The Deftones are my second-favorite band. Anything they (or Tool) release will always take a top spot by default.

Marilyn Manson is just too cool for school – I think I like feeling when a rebel when I listen to him. He also invited Johnny Depp to the party which is awesome in my eyes.

Usher is pretty much unstoppable. He's been cool since I was in the sixth grade.

I also give props to Soundgarden – this was their first release in 16 years. It becomes increasingly easy as you get older to drown in nostalgia with bands from your past.

I picked the rest because they're pretty (and I'm a lover of synth-y sounds.) Cat Power, Yeasayer, Santigold and Purity Ring – love 'em! Cheers to more beautiful music in 2013!
Brett Hazelman
Senior
I chose this music because I like and listen to a lot of movie scores and found that these were the best. I also listen to a lot of Metallica and that was their newest album.
Nick Hinterman
Junior
I have a very diverse taste in music. I chose these records because they show how I just switch from metal to pop rock. To me, Bloc Party's "Four" was exactly what I wanted them to do, which was to return to their roots.