Rural Mud Slingin' Starts Up for the Year
Story by Jayson Wakefield. Video package by Thomas Ogle and Tiana Dodge.
There is a certain rush that one gets when participating in a mud bog. Once behind the wheel of one of these monstrous trucks, you won't want to quit. It is widely popular in the U.S. and Canada where the goal is to drive your truck through a large mud pit. It is almost a tradition in the Ovid-Elsie area because it happens every year. It is so popular that there is even a nationally broadcasted television show for it.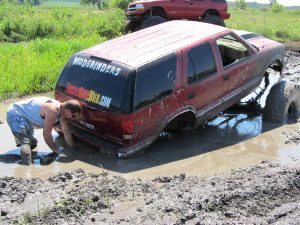 Mud Bogging usually starts in the early spring, or with this year's unusually warm weather, the late winter. There have already been a few mud bogs around the area.
There are a few sanctioning bodies that oversee this sport, like the American Mud Racing Association, and the National Mud Racing Association. For most people is it just the enjoyment of some close friends and family getting together in the backyard. At almost any mud bog, you will hear good music, taste good food and enjoy the company of people like you.
If you don't want to get addicted, then you shouldn't even try it.
"Once you start, you won't want to stop. You'll just want to do it the whole day," sophomore Tyler Henning said. "The first time I got in my truck, I wasn't so sure of it, but it was a blast once I got started."
"In my opinion, this is very fun, but it also costs a lot of money," sophomore Brandon Walter said. "I probably wouldn't get too heavily involved in this if I didn't have the money to spend."
Some of the more professional trucks can run upwards of $100,000. Most people around this area don't have to spend a bunch of money to have a good time. Living in a rural area, most people here already own a truck they can use for mud bogging.