Changes in the Business Department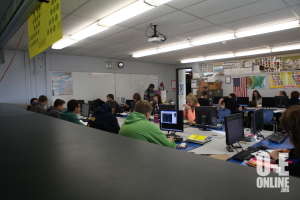 The business department has undergone a few minor changes since the retirement of business teacher Mike Shimek. Bonnie Ott, who has been working in the business department for twenty years, now has to take on extra students since there are no longer two teachers to split the load. Ott plans to run a successful corporate services class.
"I really miss Mr. Shimek, but he and I shared a lot of students anyway," Ott said. "I don't think it will be difficult at all and I'm really looking forward to our corporation."
Although the corporate services classes didn't get dual enrollment last year, Ott is looking into making that available.
"We've had a historical relationship with Baker College of Owosso with dual credit and I anticipate that it will be offered again. I just have to verify with our administration here at Ovid-Elsie before we make too many plans." Corporate services is a great capstone class and students who take it often end up being pretty profitable.
"Last year was very successful. We made over 1200 candles and it was very profitable for the students and the charities they supported." Although there will only be one teacher to cover the class, corporate services will continue to be a successful class and a great experience for the students who decide to take it.