Home Schooling vs. Public Schooling: Kids' Opinions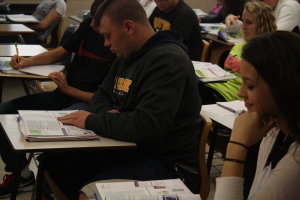 How would you feel if you didn't get to see your friends everyday at school? Imagine spending all day at home and learning what you would learn in a public school, but with your own personal teacher. Young ladies and gentleman of all grade levels attend to homeschooling everyday.
In the Ovid-Elsie community, more students attend homeschooling than thought of. Several students who now attend public school in the Ovid-Elsie school district once stayed home to learn about the Arts, Social Studies, and other common core subjects. Some of them may be your peers.
Kylie Hunt, 9th grade, says "I like being with my friends everyday and coming to school with them, but i also miss the one-on-one attention of homeschooling." Kylie and her brother Caleb Hunt, 11th grade, both were students in their own home for several years before high school. According to Kylie, homeschooling has both its benefits and downfalls.
When asked how she liked learning at home, Kylie replied with "The one-on-one attention is the biggest help…But it can also be challenge."
Jeanelle Courtnay, a public school goer, says that her brothers were home schooled for awhile and that if she had a choice between public and home school, she would continue to attend public. "I would miss my friends too much," she says,"but i might enjoy skipping out on all the drama."