Band Bonding
Laughter fills the air with music in the background. It's always the tone for a regular Tuesday practice with the marching band. All of the students are laughing and chatting during a regular break. Many students feel they have formed bonds through band.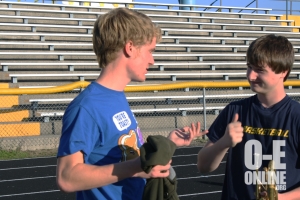 The band even has special bonding events to help with those connections. Students already bond through practices and performances, but sometimes they like to hang out without having to play. Some of the events include: bonfires, picnics, and even a trip to the water park.
Even though the band only has their special bonding activities once a month, there's a lot of other chances for students to get to know each other. For example, the events at band camp during July included water balloon fights, trips to the pool, and a skit night. Even more events that the band does are things like Cedar Point and band festival.
Students agree that the band feels like one big family. "I like how everyone embraces you like a family," Kiernan Seagers said, "I've made a lot of new friends in band." Students treat each other like brothers and sisters, and everyone knows each other.
Some students even feel like band has made them a lot happier with all of the new friends they've made. "Band boosted my confidence with all of the new friends and positivity," Seagers said, "It makes me happy,".
The band has even formed some unlikely friendships. Everyone in band, from the rowdy tuba player to the quiet saxophone, seem to be friends. Everyone in the band knows each other, and everyone's friends.
Overall, the band has bonded with their special bonding activities, are one big family, and people are happier in band. The band has made bonds that will last a lifetime, as like many other sports and clubs. It's just one of the ways that smaller clubs and activities are bringing students together.