Senior Alyson Rose Signs Letter of Intent
On April 13, senior Alyson Rose took a big step towards her future softball goals. She signed a letter of intent for Brown Mackie College in Kansas.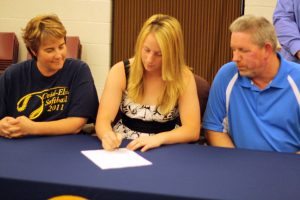 "It's not my first choice, but they are letting me play softball there so I took it," Rose said. Although it only covers half of her school costs, she couldn't be happier.
"We have only had four kids this year, but that could increase once kids figure out where they are going," athletic director Sonya Latz said.
This is a huge step in the lives of the students, and they have now taken a step to their future. Other students have signed letters of intent, including Chris Robinson and Maverick Darling. Each year is a little different and it is hard to predict who will make it to signing day.
There is a new chapter in Rose's life now. With less than 30 days left for the class of 2012, only four seniors have been able to get such an opportunity. These students include Chazz Miller, Rachelle Sandbrook and Jenny Franz. These students have a chance to receive a higher eduction and keep on playing the sports they love.
Only a few students get this chance each year, but it shows that any school, even if it's in the middle of nowhere, can produce exceptional athletes.